Natural Organic Bamboo Toothbrush
Wowe Natural Organic Bamboo Toothbrush Eco-Friendly Wood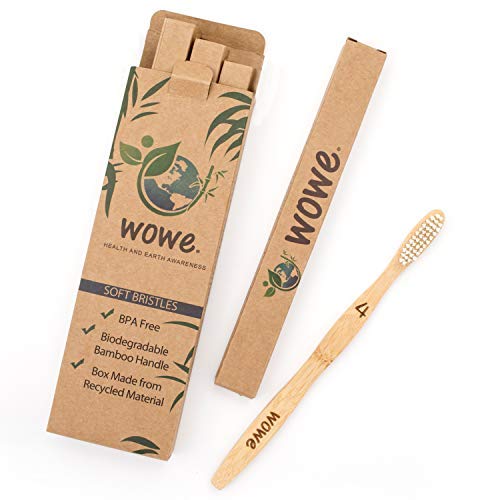 Each year, around 50 million pounds of plastic toothbrushes end up in landfill sites. This plastic can take as long as 1,000 years to decompose. In these years, it leaks contaminants into the surrounding earth, polluting the planet. Choosing a toothbrush that is eco-friendly means that you can help to reduce the amount of plastic that exists, and turn the planet into a greener place to live.
WHY BAMBOO? Bamboo is the worlds fastest naturally renewing resource which is also inherently anti-microbial, anti-fungal and anti-bacterial.
BPA FREE BRISTLES are soft and made from high quality nylon. BPA-free effectively cleans and is biodegradable
100% PLASTIC FREE ZERO WASTE PACKAGING. ZERO WASTE means we try to use as little packaging as possible while using all recycled material! Each pack comes with 4 individually numbered toothbrushes numbered 1-4
SMOOTH & NATURAL BAMBOO HANDLE will never splinter and is water resistant. Stronger and harder than wood, Bamboo is also more durable and healthier than any plastic. No need to dry the handle after use, just rinse your toothbrush and put back into its holder, just like you would with any other old plastic toothbrush
IT FEELS GOOD! Our brushes are soft and comfortable in your hand as well as in your mouth. You and your children may not want to put them down. Bamboo has a very nice natural energy about it - in contrast to common plastic brushes.